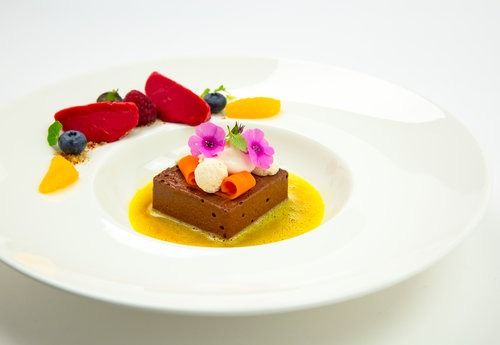 Airy Guanaja dark chocolate with raspberry-pepper sorbet by Matthias Moser
Matthias Moser, award-winning chef and QimiQ Executive Chef, has learned and cooked in the best hotels. Hilton/Vienna, Hotel Victoria Ritter/Bern, Hotel Alpine Deluxe/Obergurgl, Adventure Catering/Vienna, Hotel Fürberg/Sankt Gilgen, among others. As head chef at the Jeunes Restaurateurs d`Europe member Kirchenwirt in Leogang/Salzburg, he earned two toques in 2017 with 15 points in the Gault Millau. He stands for creativity, perfection and above all regionality.
Discover the recipe in our recipe database
Ingredients for 10 servings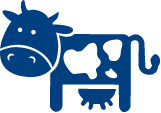 For the raspberry and paprika sorbet
45 g QimiQ Classic
500 g Boiron raspberry puree
70 g jam sugar
90 g red pepper(s), diced
30 g sugar
For the fluffy guanaja dark chocolate
450 g QimiQ Sauce Base
80 g egg yolk
100 g egg(s)
80 g sugar
1 pinch(s) salt
10 ml rum
400 g Valrhona Guanaja 70% dark chocolate
300 g egg white
50 g sugar
Preparation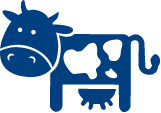 For the raspberry and paprika sorbet:

 

Briefly boil 1/3 of the raspberry puree with the preserving sugar.
Add the remaining ingredients and blend.
Pour into a Pacojet cup and freeze.
For the fluffy guanaja dark chocolate:

 

Mix the QimiQ Sauce Base with the egg yolks, eggs, sugar, salt and rum and heat to 70 °C. Remove from the heat. Remove from the heat.
Add the dark chocolate, stir until dissolved and blend with a hand blender.
Beat the egg whites with the sugar until stiff and fold in.
Pour into moulds and leave to cool thoroughly.
Pacify the raspberry and pepper sorbet and serve with the fluffy Guanaja dark chocolate.