The QimiQ Recipe Booklets
The QimiQ Cookbooks
Get even more inspiration from our seasonal cookbooks. Just browse and taste!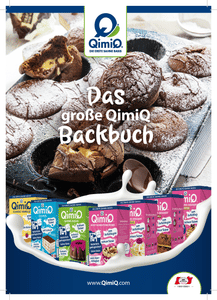 The great QimiQ baking book
The delicate scent of freshly baked goods. Stirring, kneading, baking and the finest ingredients everywhere. Cosy oven warmth spreads out. Enjoy and be amazed - that's our big QimiQ baking book! Rediscover classic and trendy baking recipes and let yourself be tempted by sweet fruits or nibbles. A last-minute meeting for a coffee or a big party - we have something for every occasion. The baking season is full of opportunities and ideas and our baking book will be your constant companion. Treat your loved ones to these delicacies - because as the saying goes: the way to a man's heart is through his stomach.
Buy now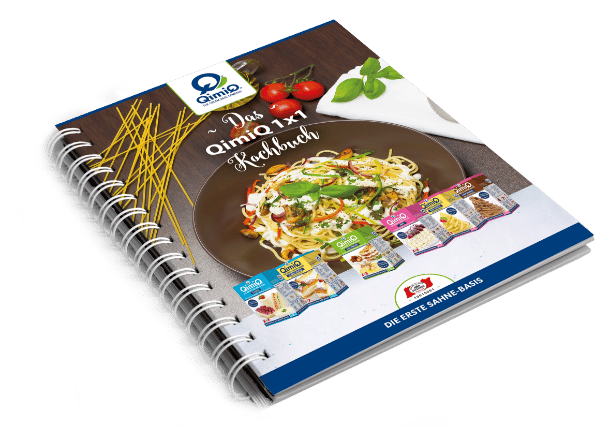 The QimiQ 1×1 Cookbook
We have collected the best, quickest and easiest recipes in our new QimiQ 1×1 cookbook. A 'must have' for all people who love cooking & baking! Conjure up great dishes in no time with simple ingredients and high-quality products. Who doesn't dream of this? It leaves more time for enjoyment - with girlfriends, friends and family. Soul food at its best, delicious starters, main courses and desserts for every day, clever tips and tricks - you'll find it all in the big QimiQ 1×1 cookbook.
Buy now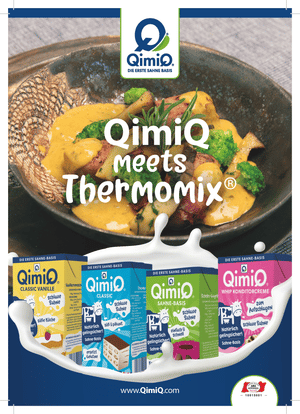 QimiQ meets Thermomix®
QimiQ and Thermomix® - a combination that guarantees even more enjoyment and even less effort. In this cookbook we show you how easy, fast and uncomplicated you can prepare delicious creations. Impress your guests, spoil your loved ones or simply enjoy yourself: The sweet and savoury dishes are ready in no time and taste as if you had been in the kitchen for hours.
Buy now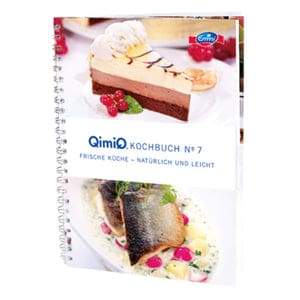 Fresh cuisine - Natural and light
This cookbook focuses on seasonal cuisine - natural, light, simple and fresh. Organised according to the four seasons, you'll find recipes that the whole family will enjoy - everyday but also smart delicacies for seasonal festive menus. Look forward to the springtime rhubarb-nut cake, light vitamin-rich tomato-mozzarella wraps in summer or the warming carrot-ginger soup on cold autumn days. But you shouldn't miss out on dessert classics like the cardinal slice and the winter gingerbread tiramisu!
Much pleasure in cooking and enjoyment!
Buy now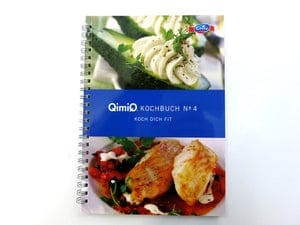 Cook yourself fit
Cooking with QimiQ means a modern form of healthy eating culture. We are continuing on this path with this cookbook. Delicious dishes with little fat, but rich in minerals, trace elements and vitamins. With many healthy recipes from small snacks to sweet delicacies for slimming down, as well as nutrition tips and a diet plan for one week.
Make healthy food a pleasure for yourself!
Buy now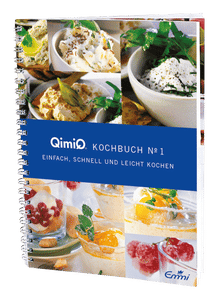 for QimiQ as well as for cooking beginners
With QimiQ, it is possible for the first time to prepare creamy and tasty dishes with low fat content in the simplest way. This cookbook is for QimiQ as well as for cooking beginners. You will find the classics of Austrian cuisine in this cookbook as well as modern, delicious and above all simple creations.
Buy now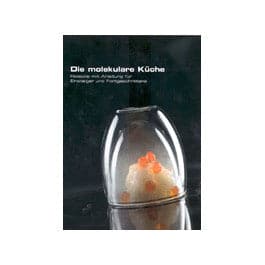 The molecular cuisine
With this cookbook, Kurt Imfeld would like to show and familiarise the interested, innovative professional or ambitious amateur chef with the techniques of molecular cuisine. The book is intended to encourage the introduction of new molecular elements into conventional cooking and to dare to experiment with new things. The 19 molecular dishes presented in the book are masterfully photographed. The molecular applications are described in an easy-to-understand manner and explained with example pictures.
Buy now